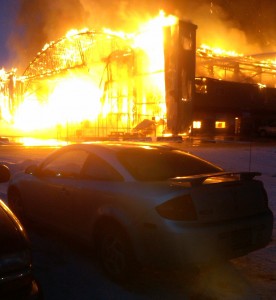 PRINCE GEORGE, BC – At approximately 2:30 pm this afternoon, the Prince George Fire Department along with Prince George Airport Authority Fire Crews, RCMP and BC Ambulance, responded to reports of a fire in the NT Air Hangar at the Prince George Airport.
"Upon arriving they found the building fully engulfed" said Todd Doherty from the Prince George Airport Authority.
Reports from the scene indicate that the fire started in the northeast corner of the World War II era building in an area occupied by offices. Sources say that all the aircraft were removed from the hanger before the fire spread from the front offices into the hanger area.
By approximately 4:15 pm the building was completely involved in fire and part of the roof had collapsed.
"Fire crews are still on site, the building is entirely lost" said Doherty.
The building is the main office for NT Air and its 70 employees which operate 11 aircraft from three bases around BC. The building is also occupied by Airconsol Aviation Service, BC Air Ambulance and several other organizations including the Civil Air Search and Rescue Association.
There are no reports of any injuries.