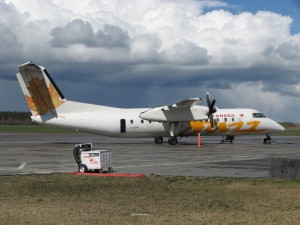 PRINCE GEORGE, BC – An Air Canada Jazz flight landed safely at the Prince George Airport today after declaring an emergency.
The Dehavilland Dash 8 aircraft departed Prince George shortly after 1:00 pm en route to Vancouver when smoke was detected in the cabin shortly after takeoff.
Prince George Airport Authority Spokesperson Todd Doherty said "At 1:25pm the Prince George Airport Tower received word that the pilots of a Dash 8 aircraft, operated by Air Canada Jazz, with 51 persons on board were declaring an emergency with smoke in the cockpit.
"Emergency procedures were activated by the Tower and Prince George Airport Authority. At approx 1:40pm the aircraft landed without incident" Doherty said.
Initial reports are that an overheated air conditioning unit was the source of the smoke.