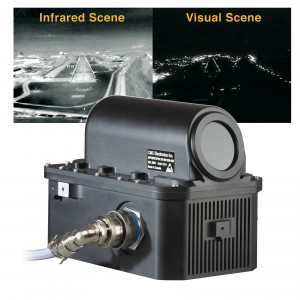 MONTREAL – Esterline CMC Electronics' second-generation SureSight CMA-2600 integrated sensor system supplied for the Rockwell Collins Enhanced Vision System was certified in October, 2010, by the Federal Aviation Administration on a Boeing Business Jet, an Air National Guard C-40. The Rockwell Collins EVS is available to current and future BBJ operators as a post-production modification.
The EVS capability enhances situational awareness for pilots during approach, landing, taxi and takeoff by presenting an image of the external environment on the head-up guidance system and head-down displays.
The EVS system uses CMC's infrared sensor to improve the pilot's view of the runway in various conditions, including bad weather. This aids pilots to avoid terrain and clearly identify the runway, including any obstructions, early in the approach. It also assists pilots with "black hole" approaches to airports not equipped with precision landing aids, and with landing and maneuvering at unfamiliar airports.
Greg Yeldon, president, Esterline CMC Electronics, said, "This certification confirms the innovative technology and winning combination of capability, availability and performance of our SureSight CMA-2600 I-Series™ sensor system."
CMC's SureSight family of integrated sensor systems is designed to meet demanding reliability, quality and video performance standards. CMC's EVS sensors continue to be the leading choice for airframe manufacturers and prime contractors.
Esterline CMC Electronics has achieved an international reputation for innovation and excellence in the design and manufacture of electronics products for the aviation market. CMC's focus is on delivering innovative cockpit systems integration and avionics solutions to its customers worldwide.