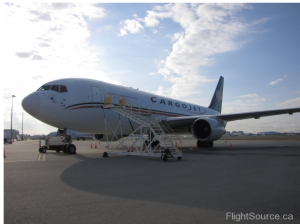 MISSISSAUGA, ON – Cargojet announced today they have been awarded the Domestic Air Cargo Network Services contract and have signed a Master Services Agreement with the Canada Post Group of Companies for an initial seven-year term with three thirty-six month renewal options. Projected revenues are estimated to be approximately one billion dollars during the initial seven-year agreement based on projected volumes.
Cargojet will provide comprehensive Canada-wide air cargo services for the Group of Companies, including Purolator's national air cargo network. Cargojet's domestic overnight network will be expanded and enhanced significantly to handle the additional volumes and provide a virtual dedicated Air Cargo Network to the Canada Post Group of Companies.
"Cargojet is extremely pleased to have been successfully chosen as the exclusive primary domestic air cargo service provider to the Canada Post Group of Companies. Cargojet operates an extensive overnight air cargo model, which will provide the most cost-effective and scalable solution to the Canada Post Group of Companies," said Ajay Virmani President and CEO of Cargojet. "Cargojet and the Canada Post Group of Companies will work together to provide Canadians with world-class and flexible air cargo services in today's changing business environment, " added Virmani.
"We are excited about the prospect of working with Cargojet. Their extensive air network, combined with Purolator's extensive ground network will enable us to continue to enhance and expand our service offerings for customers while assuring our market competitiveness in the long term," said Patrick Nangle President and CEO of Purolator. "At the heart of all our decisions at Purolator is delivering on our promises to our customers. We are confident that this new partnership will be instrumental in helping us meet this commitment as we continue to evolve and grow."
"Canada Post is undergoing a major transformation as customer demand shifts from mail to parcel delivery with online shopping," said Jacques Côté, Group President, Physical Delivery Network, Canada Post. "This move will drive operational efficiencies, lower our transportation costs and help ensure our parcel delivery remains competitive from a cost and reliability perspective."
Cargojet is Canada's leading provider of time sensitive overnight air cargo services and carry over 500,000 pounds of cargo each business night. Cargojet operates its network across North America each business night, utilizing a fleet of all-cargo aircraft. Cargojet recently signed an LOI with Air Canada to explore strategic opportunities in both cargo and airline operations within Canada and international markets.