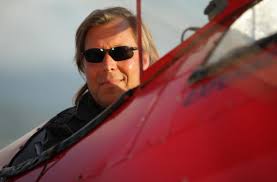 The Aviation Community is today mourning the loss of Airshow Performer Marcus Paine. The 61 year old pilot died Saturday while performing at the Airshow of the Cascades in Madras Oregon.
The accident occurred at approximately 2:45 pm PT while Paine was attempting to perform a loop according to witnesses.
Paine was a well known and talented aerobatic pilot as well as featured member on the popular tv series Airshow on the Discovery Channel.
The Federal Aviation Administration says that Paine was the only one on the plane.