September 19th, 2009 by admin, Filed under - News
Columns of thick black smoke were visible coming from the Prince George Airport this week. (more…)
Comments Off on Fire at Prince George Airport
September 17th, 2009 by admin, Filed under - News
Canada and the US have reached a "tentative agreement in principle" over a dispute that recently erupted over charter flights. The dispute threatened to disrupt the travel plans of teams in the National Hockey League. (more…)
Comments Off on Canada, US Reach Tentative Air Charter Deal
September 16th, 2009 by admin, Filed under - NTSB
The NTSB today released an animation of the Hudson River midair based on radar and ATC communications. This animation consists of a two-dimensional (2-D) depiction of preliminary radar flight path information of the August 8, 2009 mid-air collision of a Piper 32 aircraft with a Eurocopter helicopter. (more…)
Comments Off on Hudson River Collision Animation
September 16th, 2009 by admin, Filed under - News
NAV CANADA, the country's provider of civil air navigation services, will be installing a new AWOS at Prince George, BC. CYXS (more…)
Comments Off on Nav Canada to Install AWOS at Prince George Airport
September 15th, 2009 by admin, Filed under - Bombardier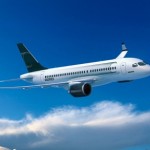 MONTREAL, QUEBEC – Today marked a major achievement for the CSeries aircraft program as Bombardier Aerospace celebrated the groundbreaking of the first CSeries aircraft building in Quebec, Canada. Located at Mirabel, 45 minutes north of Montreal, the Complete Integrated Aircraft Systems Test Area (CIASTA) is a testing and systems-proving facility that will house a virtual CSeries test aircraft. The CIASTA will test aircraft systems for reliability and functionality one year before the first prototype aircraft flies. (more…)
Comments Off on Bombardier Breaks Ground On New CSeries Aircraft Manufacturing Site
August 5th, 2009 by admin, Filed under - News
MEMPHIS, TN – Pinnacle Airlines, Inc., a wholly owned subsidiary of Pinnacle Airlines Corp. (NASDAQ: PNCL), and the Air Line Pilots Association, International (ALPA) have reached a tentative agreement to amend the contract covering the Airline's 1,250 Pilots. The agreement is the result of contract talks that began in 2005. Pinnacle Pilots must now ratify it. (more…)
Comments Off on Pinnacle Airlines, ALPA Reach Tentative Agreement
August 3rd, 2009 by admin, Filed under - FAA
WASHINGTON, D.C. — The U.S. Department of Transportation's Federal Aviation Administration (FAA) today changed its certification standards for transport category airplanes to require either the automatic activation of ice protection systems or a method to tell pilots when they should be activated. (more…)
Comments Off on FAA Mandates Timely Activation of Ice Protection Systems for New Designs
August 3rd, 2009 by admin, Filed under - Bombardier
TORONTO, ONTARIO – Bombardier Aerospace announced today that it has received a signed, firm order for five Q400 NextGen turboprop airliners. The airline which placed the order has requested to remain undisclosed at this time, and has also taken options on an additional five Q400 NextGen aircraft.
Comments Off on Bombardier Signs Airline for Five Q400 NextGen Airliners
August 2nd, 2009 by admin, Filed under - News
Courtenay, B.C.
Comox Valley RCMP received a call of a small single engine aircraft that crashed into a residential neighbourhood on Falconcrest Drive in Courtenay at approximately 5:00 pm today. (Aug 2nd)
There was one person on board. That person did not survive.
Several witnesses reported debris falling off the plane as it spiralled downward. The plane crashed approximately 20 feet from a residence. No one in that residence was injured.
The Coroner is investigating and RCMP Forensic Identification and the Transportation Safety Board are on scene. We have also received assistance from the neighbouring detachments of Campbell River and Parksville.
The Jodel single engine amateur built aircraft is believed to have come from Surrey.
The name of the deceased will not be released until the next of kin are notified.
At this time it appears that the there was an in-flight structural break-up of that aircraft.
Comments Off on Comox Valley – Single Engine Airplane Crashes in Residential Neighbourhood
August 2nd, 2009 by admin, Filed under - News
Courtenay, BC: Police and the fire department are currently at the scene of a single engine plane crash that occurred at approximately 5 pm today in the area of Falcon Crest Drive in Courtenay. There is no information available at this time about the number of occupants, their condition and the flight plan.
Comments Off on Plane Crashes in Courtney