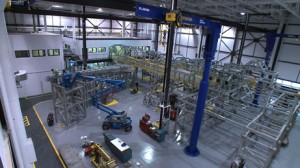 MONTREAL, QUEBEC – The first systems for Bombardier's CSeries airliner program are now being developed and tested at partners and vendors in Canada, the United States and Europe prior to delivery to Bombardier's Complete Integrated Aircraft Systems Test Area. The installation of the systems rigs at the CIASTA is progressing on schedule, and some parts, including the engine accessory gearbox and flight deck controls, have already arrived.
Located at Bombardier's Mirabel facility, 40 km north of Montreal, the CIASTA is the high-tech laboratory that will test the CSeries aircraft's systems ahead of first flight and will continue to support systems integration during the flight test program.
Supported by three main pillars – risk mitigation, advanced quality planning and solid governance – execution of the CSeries aircraft program is designed to enhance the reliability and maintainability of the CSeries jetliner.
"The CIASTA will integrate flight control systems, avionics, hydraulics, electrical and environmental control systems prior to the CSeries aircraft's first flight," said David Tidd, Vice President, Integrated Product Development Team, Bombardier Commercial Aircraft. "It is a significant advancement from the test rigs that Bombardier has used on its previous aircraft development programs."
"This virtual aircraft, which is in fact considered as the aircraft with serial number zero, will be used to extensively test systems design in order to mitigate risk and provide the necessary reliability prior to the first flight," added Mr. Tidd.
The 62,000 sq. ft. CIASTA complex sits adjacent to Bombardier's state-of-the-art assembly facility for its CRJ family of regional jets. The CIASTA is the first in a series of large facilities planned exclusively for the testing, final assembly and delivery of CSeries aircraft in Mirabel.
The CIASTA concept involves several key CSeries aircraft partners and suppliers, including CAE, Goodrich Actuation Systems, Hamilton Sundstrand, Honeywell, Liebherr-Aerospace, Parker Hannifin, Pratt & Whitney and Rockwell Collins. Representatives from these organizations will be co-located in Mirabel to work with Bombardier on system testing and integration processes.
The CIASTA will house the Integrated Systems Test and Certification Rig, Engineering Simulator, Systems Integration Test Stand, Flight Controls Integration Lab and Environmental Cabin Systems rig.
The CSeries aircraft, which is optimized for the single-aisle 100- to 149-seat market, will deliver the lowest operating costs in its class, exceptional operational flexibility, widebody comfort and an unmatched environmental scorecard.